Garstang mid way between Preston and Lancaster is a thriving small market town with a variety of entertainment, activities and events for all the family. Hotels and Restaurants, Festivals, Concerts and Exhibitions Garstang offers something for every taste.
Activities, Entertainment, Festivals & Events July 2014.
Garstang Arts Centre.
Garstang Arts Centre, Croston Road, Garstang, Lancashire. Arts Centre activities for July 2014
---
Fridays and Saturdays.
Live Entertainment @ The Eagle and Child.
From eight till late every Friday and Saturday at The Eagle.
High Street, Garstang Lancashire PR3 1EA Tel 01995 602160
---
Friday 25th to Sunday 27th July.
'Owd Nell's Cider Festival
'Owd Nell's Canalside Tavern is hosting the North West's only Pressed Cider Festival again this year.
More information and program for Pressed Cider Festival 2014.
A whole lot of Cider Pressed into a Weekend! FREE Admission.
Guy's Thatched Hamlet, St. Michael's Road, Bilsborrow, Near Garstang, Preston, Lancashire PR3 0RS. Tel 01995 640010
---
Tuesday 22nd July.
Quiz Night @ The Old Tithe Barn.
Tuesday night is Quiz night at the Tithe Barn. Kick off 9pm.
Th'Owd Tithe Barn. Church Road, Garstang, Lancashire PR3 1EL Tel: 01995 604486
---
Thursday 24th July.
Garstang Country Market.
Garstang Sports and Social Club.
Every Thursday from 10am to 12 noon for quality home-produced baking, jams, handicrafts, plants, fruit, vegetables and flowers.
Coffee and tea from 9.30am.
Free parking outside the hall which is on Lancaster Road near to L.B.T. Motors. Contact tel. 01995 602346
---
Thursday 24th July.
Garstang Market Day.
Stalls on Garstang High Street, Church Street and Market Hall.
High Street, Market Place, Church Street. Garstang Lancashire PR3 1FA
---
Sunday 27th July.
Summer Herb Walk.
Humblescough Farm will be hosting a Summer Herb Walk led by Barbara Wilkinson who is a registered herbalist. The walk starts at 1.30pm. For more information and booking visit Humblescough Farm website.
Humblescough Farm, Humblescough Lane, Nateby, PR3 0LL. Telephone 01995 605804
---
Wednesday 30th July.
Garstang Unplugged Singers Night.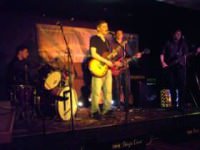 Garstang Unplugged present a monthly live music event at the Kenlis Arms 8pm
No backing tapes, just live music. Free entry.
Telephone 01995 602795 or Visit the new Garstang Unplugged Website for more information.
Call the Kenlis direct to book a table to dine. 01995 603307
Free live music entertainment in and around Garstang and Over Wyre.
Kenlis Arms Hotel, Ray Lane, Barnacre, PR3 1GB Telephone 01995 603307
---
Sunday 17th August.
Car & Bike Autojumble.
Outdoor plots £15 each (anysize), Indoor from £10 Est 1998, Adm adult £3.50 Child u14 free. Refreshments, free parking, 9am to 1pm, classics parking area. Mark Woodward Classics
Hamilton House, on A586, Garstang, Preston, PR3 0TB Showground entrance zoom map for more detail.
---
Sunday 17th August.
Summer Craft Sunday @ Scorton Village Hall.
11am to 4pm. Glorious British Arts & Crafts to see buy and enjoy. visit website.
---
Monday 18th to Monday 25th August.
Garstang Art and Music Festival.
A week of celebrating the arts and music at various venues, including the High Street, around Garstang. Garstang Arts Festival information..
---
Saturday 23rd August.
Rustic Stool Workshop @ Humblescough Farm, Nateby.
On this one day workshop you will learn how to rive wood and use a shave horse, along with a wide range of woodcraft tools, to create a traditional three-legged stool. All materials are included and you will be able to take home the stool which you have made.
Cost – £65 per person. Website www.humblescoughfarm.co.uk.
Humblescough Farm, Humblescough Lane, Nateby, PR3 0LL. Telephone 01995 605804
---